Conversations Podcast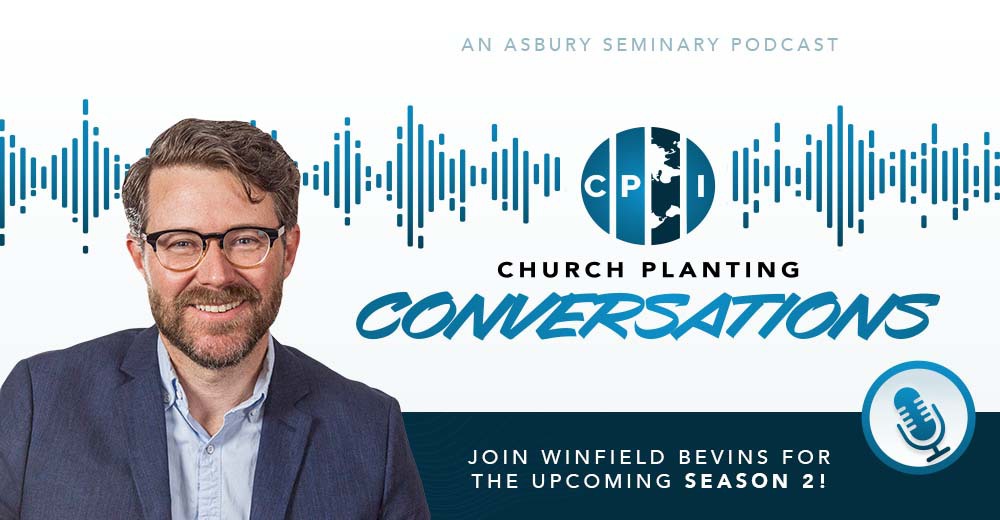 Dr. Winfield Bevins invites you into exclusive interviews with church leaders, scholars, and professors about the new trends impacting church planting in North America and beyond.
Season 2 coming January 2022
Listen and subscribe in your favorite podcast player by searching for Church Planting Conversations!
---
Episode 7: Iosmar Alvarez
In this conversation between friends, Winfield and Iosmar discuss the critical importance of discipleship systems for any new church plant, and the rapid reproducibility of plants that do establish these well. Join us for this conversation about micro church movements, raising up local leadership, and the importance of keeping planting as part of any church's DNA.
Dr. Iosmar Alvarez emigrated to the U.S. from Cuba. When he arrived in the U.S. in 2001, God called him to lead and serve among the Hispanic people. He has served as the senior pastor of Fuente de Avivamiento in Lexington, Ky., CEO of Disciple 21 Church Planting Network, and is now the District Superintendent in Lexington, Ky. He is a certified coach and recently earned his doctorate at Asbury Seminary. His goal is to plant 2500 churches by 2028, using traditional and non-traditional methods, to make disciples for Christ.
---
Episode 6: Howard Snyder
In this episode, Winfield and Howard discuss the necessity of small group meetings for churches of any size, the difference between the essential Gospel and changeable wineskins it is delivered in, and the importance of environmental care for faithful Christians.
Dr. Howard Snyder served as professor of the history and theology of mission at Asbury Theological Seminary from 1996-2006. He has also served as Professor of Wesley Studies, Tyndale Seminary at Toronto from 2007-2012 and he has taught and pastored in São Paulo, Brazil; Detroit, Michigan; and Chicago, Illinois.
---
Episode 5: Gregg Okesson
Dr. Gregg Okesson is the Dean of the E. Stanley Jones School of World Mission and Evangelism at Asbury Theological Seminary. Before coming to Asbury in 2011, Dr. Okesson was a faculty member at Scott Christian University, Kenya, East Africa for 10 years where he served as Deputy Vice Chancellor for Academic Affairs and a lecturer in theology. Prior to this, he was a pastor in upstate New York, worked in Student Development at Wheaton College, and was a church-planter amongst a Muslim people-group in north-central Tanzania. Dr. Okesson and his family lived in East Africa for 13 years.
In this episode, Winfield and Gregg share a conversation about how Gregg's church planting and community-building experiences in East Africa shape his role in a Western academic institution. They explore the importance of humility and listening for anyone hoping to do contextual ministry anywhere in the world.

---
Episode 4: Disciple Making with Manik Corea
Manik is an Singaporean missionary and Global Executive with the New Anglican Missionary Society (NAMS) currently serving in Thailand. The NAMS network is a global and dispersed community of men and women, who have come together to do an apostolic work under an apostolic rule. It is a community raised up by God for the 21st century but rooted in the life and faith of the first century.
In this conversation, Winfield and Manik discuss biblical foundations and missional implications of the intersection of spiritual formation and disciple-making.
---
Episode 3: Discerning the Call to Church Planting with Wesley Bolden
Wesley Bolden is a Project Manager at Stadia Church Planting, a global network focused on starting new churches and caring for children through them. He has ministry training and experience in church revitalization, campus ministry, leadership and church planting. In 2013, he partnered with Stadia to plant Tri-Cities Church, a multiethnic church in metro Atlanta. Wesley is passionate about empowering church planters to discover and live into their unique gifting and calling.
In this episode, Winfield and Wesley talk about Wesley's past and current work, as well as what it means to discern and answer a call to church planting.
---
Episode 2: Missional Formation with Mark Dunwoody
In our second episode,  co-founders Dr. Winfield Bevins and Dr. Mark Dunwoody share a conversation about Missional Formation Coaching, a new model for coaching planters and leaders through a unique blend of both spiritual and missional practices.
---
Episode 1: Racial Reconciliation Brian Taylor
In our first episode, Dr. Winfield Bevins, Director of the Church Planting Initiative, talks with Dr. Brian Taylor about his work with racial reconciliation through his church plant, Bethel Cincinnati Church.
---