Global Summit 2021 Registration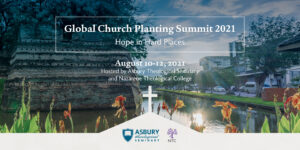 Asbury Theological Seminary and Nazarene Theological College are honored to host the second Church Planting Global Summit as an online conference on August 10-12, 2021. Scholars, leaders, and expert practitioners from around the world will gather to share stories of "Hope in Hard Places" from every major region of the globe. This online conference will feature case studies, expert panels, and plenary speakers over three daily, three-hour sessions. The interactive format allows participants to join from anywhere and to engage testimonies of God's faithfulness. 
---
Event Schedule
All times are given in Eastern Standard Time
Tuesday, August 10th, 2021
7:00a – Opening Plenary – Dr. Timothy Tennent
8:00a – Southeast Asia Case Study  ||  Africa Case Study
9:00a – The Motus Dei Network Panel  ||  Diaspora Panel
Wednesday, August 11th, 2021
7:00a – North America Case Study  ||  Europe Case Study
8:00a – Church Planter Training Panel  ||  Exploring Failure Panel
9:00a – East Asia Case Study  ||  Oceania Case Study
Thursday, August 12th, 2021
7:00a – Microchurch Movements Panel  ||  Multicultural Planting Panel
8:00a – Latin America Case Study  ||  Middle East Case Study
9:00a – Closing Plenary – Dr. Deirdre Brower Latz
To attend the Global Summit, please complete the form below to receive further information regarding the conference and the link to join. Registration is free! If you have any questions, please feel free to reach out to global.summit@asburyseminary.edu.
---